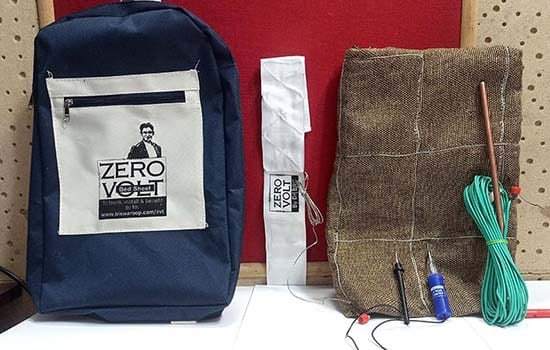 Earthing Therapy
Earthing or Grounding is a therapeutic practice centered around the concept of restoring your electrical energy balance through a reconnection with the Earth. Grounding, or earthing, entails engaging in activities designed to "ground" you, effectively reestablishing an electrical connection with the Earth. This technique draws on the principles of both earthing science and grounding physics to elucidate how electrical charges emanating from the Earth can impart beneficial impacts on the human body.
Throughout time, we humans have sat, stood, strolled, and slept on the ground – the skin of our bodies touching the skin of the Earth. Such ordinary contact has served to transfer the Earth's natural healing energy into the body. Human lifestyle has disconnected us and makes us vulnerable to inflammation, pain, stress, poor sleep, and sickness. Earthing, also known as grounding, is the discovery that reconnecting to the Earth restores a timeless link to Nature that revitalizes the body, reduces pain and stress, and improves health, sleep, mood, and appearance. Reconnect and experience the healing benefits of Mother Earth.
When grounded, the diurnal rhythm of the stress hormone, cortisol, begins to normalize. Cortisol is connected to your body's stress response and helps control blood sugar levels, regulates metabolism, helps reduce inflammation, and assists with memory formulation. It also helps Lower stress and promote calmness in the body by cooling down the nervous system and stress hormones while normalizing the body's biological rhythms.
All living organisms have a special structure - The Bio-Energy Field. The human body has a bio-energy field which consists of subtle organisms with energetic potential that gives strength and power to the biological field.
The concept of the existence of a human energy field and energy medicine can be found in eastern cultures such as Indian Vedic scripts, Tibetan Buddhist, and Chinese medical systems, in varying forms, stemming back thousands of years. There is actually a relationship that can be seen between emotion and energy and this is looked at through The Science of Human Energy Fields.
We humans are a bundle of condensed Energy! Our physical body is made up of over 100 Trillion cells. The overall functions of your body are very dependent on these basic foundational blocks (cells) and the vitality of these cells is in turn powered by subtle energy.
We, humans, are multidimensional beings: Mental, Emotional, Spiritual, and Physical. In anything and everything we do, we engage all these 4 dimensions. The constant recurring thoughts (positive or negative), past good or bad memories, regular or irregular emotions we feel, and sometimes the confusions or uncertainties we have, are all due to imbalances in these dimensions.
Together with the subtle energy, we are a Life-Force or Living Force of Intelligence!
Our Innate intelligence is able to use the resonance as a conduit to absorb natural Life Force energy from the environment to cleanse, charge and rejuvenate.
This brings about balance, reduction in stress, and an increase in energy. This stimulated natural energetic state enables self-healing and enhances our performance, which translates into better results for our actions.