Cure Kidney Diseases without Dialysis & Transplant
Kidney health is paramount for overall wellness, and various factors can contribute to kidney disease. Conditions like diabetes, high blood pressure, inflammation, and infections are common culprits. Embrace the power of Ayurveda to bolster and optimize your kidney function. Whether you face critical, chronic, or mild kidney concerns, our Ayurvedic experts are here to guide you towards optimal kidney health. Our skilled team of Ayurveda doctors and therapists collaborate to provide holistic care that promotes proper kidney function.
At Sevyam, we offer safe and non-surgical solutions for speedy recovery. As kidney diseases are increasingly prevalent, trust in our Ayurvedic services to address a wide spectrum of concerns. Tailored Care for Every Concern: Be it kidney infections, chronic kidney diseases, or even kidney failure, we provide personalized care. Our approach involves a thorough understanding of your symptoms and medical history, enabling us to craft custom solutions that align with your unique needs. By harnessing the potency of natural methods, we stand with you in overcoming kidney-related challenges.
All about GRAD System-(Gravitational Resistance And Diet System)
Developed by Dr Biswaroop Roy Chowdhury,The GRAD system is an ayurvedic perspective recommended as an effective alternative to treat CKD patients.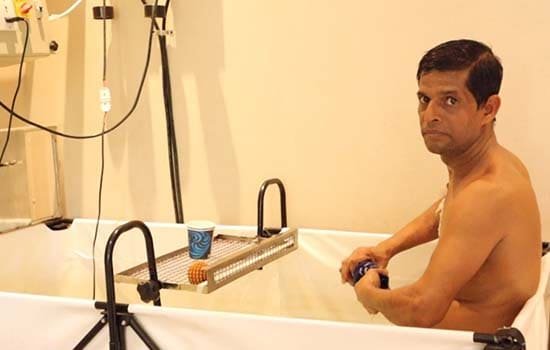 Hot water Immersion Therapy

Morning Yoga Session
Hunza Tea & Health Follow-Up Session
Sunbath Therapy
Green Juice & Red Juice Serving
Pre-HWI Therapy Checkups
HWI Therapy
Post HWI Checkups

Lunch (GRAD Diet)
HDT Therapy

Physiotherapy Session with Experts

Massage & Acupressure
Health Checkup
Health follow-up Session with NICE Experts

Dinner (GRAD Diet)

Meditation Session
Day end & Rest
Kidney Disease Treating with GRAD Therapy
CKD (Chronic Kidney Disease)
Kidney Failure
Kidney Stone
Kidney Infection
AKD ( Acute Kindey Disease)
PKD (Polycystic Kidney Disease)
Know what our patients had to say about our diversified and thorough GRAD treatment!
डायलिसिस हुआ बंद 8 दिन में ! Dialysis stopped naturally in just 8 days :: GRAD Treatment
10 लीटर जमा पानी 10 दिन में साफ़ , मुझे कोई ज़रूरत नहीं अब डायलिसिस की। No Dialysis , No Transplant !!
अब कोई ज़रूरत नहीं डायलिसिस की मुझे !! No Dialysis , No Kidney Transplant
मेरा तोह किडनी ट्रांसप्लांट होना तैय था, पर अब ज़रूरत नहीं !! No Dialysis , No Kidney Transplant.
GRAD Therapy : New Hope for Kidney Disease Patients !!